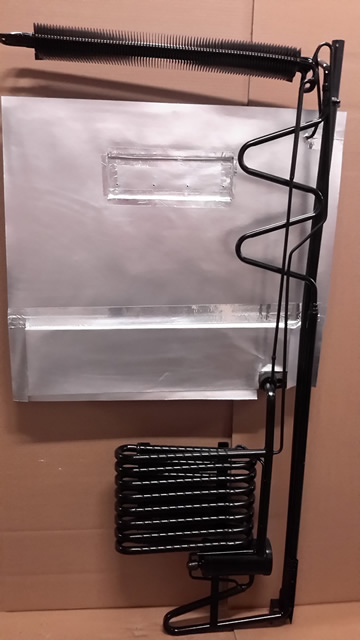 Repairing and Rebuilding RV Refrigeration Since 1975
Pioneers in Gas Refrigeration Repairs
NEVER Sacrifice Quality for Price
A+ Rating with Better Business Bureau
CALL 1-800-950-4TRI (4874)
DON'T BE FOOLED BY LOWER PRICES The old saying, "You get what you pay for" is true in gas cooling units. While we could cut our prices and make our units cheaper, we WILL NOT SACRIFICE QUALITY for price. For over 40 years, we have taken pride in producing the best gas refrigerator cooling units. That means the unit you purchase from Trailer Refrigeration will work, not just when you install it but keep working.
Check Before You Buy
Not all the internet companies selling rebuilt RV refrigerators are equal.  One competitor, that offers lower prices and longer warranties, also has over 125 complaints filed with the Arkansas attorney general's office since 2013 (see the Oct 28, 2016 news story here).  They have even changed their name several times to mask their poor reputation.  Trailer Refrigeration has a spotless reputation with the BBB and no customer complaints.

The Leader in RV Gas Refrigerators Service since 1975
Trailer Refrigeration, located in Tucson, Arizona, has been providing sales and service of lp gas rv refrigerators for RV and home use since 1975. Our only business is rebuilding and repairing gas rv refrigerators. We are a factory authorized sales and service center for Norcold and Dometic RV refrigeration.
1-800-950-4TRI (4874)
OUR PRICES ALWAYS INCLUDE SHIPPING ALL DOMETIC AND NORCOLD COOLING UNITS 1980 AND NEWER INCLUDE A 5 YEAR WARRANTY ON THE EVAPORATOR*
Why Buy Rebuilt Instead Of New? If your gas refrigerator box looks fine, but stopped cooling, it is normally a faulty cooling unit. Most individuals with only minimal skill can follow the simple instructions and replace the cooling unit themselves. Our rebuilt rv refrigeration cooling units are thoroughly tested prior to shipping. We have shipped to every state in the US. Plus, a rebuilt cooling unit from Trailer Refrigeration carries a Two Year Warranty, as opposed to one year on new units. We also now offer a free Five Year Warranty against leaks in the evaporator on all Dometic and Norcold cooling units manufactured in 1980 and newer except side-by side models..
Featured Rebuilt Cooling Units
These are a couple of our most popular cooling units.  To order the correct cooling unit for your gas refrigerator, you can either browse by manufacturer or click enter your model number in the search below.
Looking for a cooling unit? Click Here to Begin Your Search
SERVICE
In addition to rebuilt cooling units, we also offer in shop service to repair most RV refrigerators
Why buy an Extended Warranty? Our experienced service allows us to offer retail customers a 2 YEAR Limited Warranty* at no additional cost.