Learn How To Remanufacture RV Ammonia Absorption Gas Refrigerator Cooling Units From The Leader In The Industry.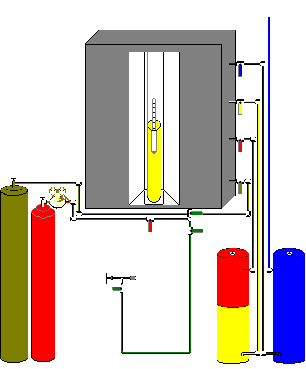 Trailer Refrigeration has been training people to rebuild, repair and recharge gas refrigerators for over 20 years.
KNOWLEDGE DOES NOT MEAN SUCCESS. CORRECT KNOWLEDGE PLUS EXPERIENCE, EQUALS SUCCESS.
Think for a moment…. AMMONIA ABSORPTION REFRIGERATORS AND AIR CONDITIONERS WILL BE THE WAY OF THE FUTURE. Due to the effect of freon on the environment and the new laws that have been recently passed pertaining to the use of freon.
The RV Industry desperately needs trained personnel to recharge gas/electric refrigerators. There are millions of these units in use and with the high cost of new refrigerators, there is more demand to recharge the old cooling units.
HANDS-ON TRAINING COURSE:
We offer a 5 day, hands-on training course at our facility in Tucson, Arizona. This is a hands-on course, conducted in our shop where you will learn all aspects of rebuilding, recharging, and repairing gas refrigeration. Our track record shows that the individuals that complete our hands-on training are far more successful than those that attempted to learn this from a manual.
LEARN HOW TO:
Troubleshoot and Identify Defective Cooling Units
Recharge Defective Cooling Units
Repair Leaks
Replace Steel Tubing
Unblock plugged systems
Re-Styrofoam
Refurbish Used Refrigerators at a very substantial profit
WE PROVIDE:
Total Diagnostic Training
Recharging Formulas for all RV ammonia absorption refrigerators
Training CD for reference
Unlimited telephone support
Certificate of Completion
FEES AND SCHEDULE:
Currently, we only conduct classes during our off season months of November, December and January. The cost for our 1 week class is $8000. Your initial investment, in addition to the training class, will run between $5000 and $10,000. The tools you will need to start your business would be general shop equipment, including oxygen and acetylene welder, a small meg welder, and an ammonia charging system that you can either build yourself, or we can build one for you (not included in the course price).
TRAINING CD:
For those that want to see what is involved in gas refrigerator repair and recharging or for those that have some knowledge of refrigeration repair, our Training CD is available. The CD covers the same information we teach in our hands-on gas refrigerator repair course. This is the same CD we send everyone that registers for our hands-on course. The CD is $650 plus $10 shipping and handling. We will deduct the cost of the CD if your later schedule a hands-on training course. Click here for system requirements for the CD or to order.
AVERAGE COST OF RECHARGING A UNIT;
Now, instead of paying $500.00 or more for a remanufactured cooling unit and having lots of time delay in shipping plus very expensive freight (as well as core charge), do it yourself the same day it comes into your shop. The materials needed to repair a cooling unit are under $100.00 and repairs can be performed in two hours in most cases. The only proper way to learn is by actual hands on training, plus you can ask questions then rather than later with expensive long distance phone calls. YOU CAN REPAIR THESE REFRIGERATORS AND POCKET THE PROFITS…INSTEAD OF GIVING THIS MONEY TO SOMEONE ELSE.